Today is the last day of the September release countdown of My Favorite Things and you know what that means right? Tommorow all the new products will be avaible! Did you decide on what you are going to get? Luckly you have one more night to think about it!
Vandaag is de laatste dag van de september release countdown van My Favorite Things en je weet wat dat betekend! Morgen zullen alle nieuwe producten beschikbaar zijn. Heb je al besloten wat je zou willen hebben? Gelukkig kun je er nog een dag over nadenken!
So when I was the Iconic Christmas stamp I knew that I was going to use the set to make an example card with! And you know what? I did not make just one card, no I made two different ones using this stamp.
Toen ik de Iconic Christmas stempel zag wist ik dat meteen dat ik er een voorbeeld kaart mee ging maken! En weet je wat? Ik maakte er niet één maar zelfs twee met deze leuke stempel.
So for my first card I used the whole set and did not remove it from the plastic sheet it comes from. I used my big Misti and added a Smooth White panel on the base. Added the whole stamp minus the sentiments and placed it on to the paper. Added some strong tape and pick up the whole panel using my Misti. Heat set the images using gold embossing powder and cut it to a rectangle.
Voor mijn eerste kaart gebruikte ik de hele set. Ik verwijderde niet de stempels van het plastic maar gebruikte de sheet. Ik gebruikte de grote Misti en plaatse er een stuk Smooth White cardstock in. Legde de stempels er op en plakte aan de achterkant twee stukken stevige tape. Pakte het op met de deksel en heat emboste de stempels met goud embossingpoeder sneed het vervolgens tot een rechthoek.
Glued the embossed panel onto a Eiffel Tower cardstock and that went onto a Sno Cone Topfold cardbase. Heat set the sentiment on to some Eiffel Tower and cut it down. Finished of the card using some enemal dots.
Plakte de rechthoek op een stuk Eiffel Tower cardstock en dat ging vervolgens op een Sno Cone topfold basiskaart. heat emboste de tekst op Eiffel Tower cardstock stanste het uit en werkte het geheel af met enemal dots.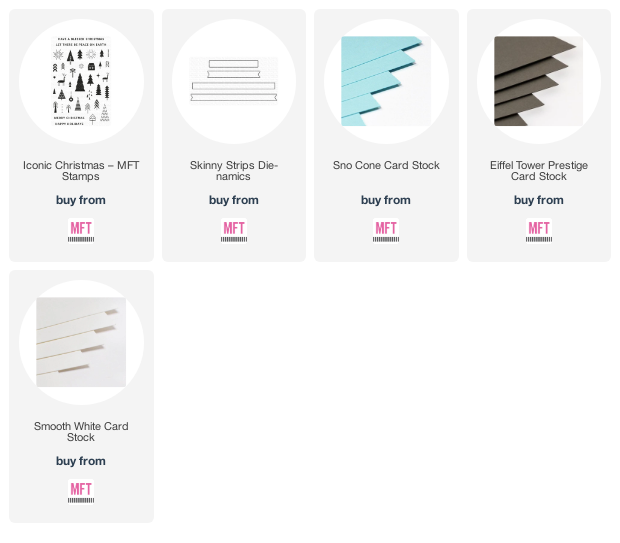 So for my second card I used the Gina K wreath Builder stencil and turned the Iconic Christmas into a small wreath.
Voor mijn tweede kaart gebruikte ik de Gina K wreath Builder stencil en maakte met de Iconic Christmas stempel een kleine krans.
Stamped all the images using Princess Pink, Fire Coral, Butterscotch, Sour Apple, Jalepeno Popper, Kraft and Milk Chocolate on Smooth White 4 x 4 inch base. Corner chopped the 4 corners and added it to a slightly bigger Jalepeno Popper cardbase.
Stempelde alle afbeeldingen met de kleuren
Princess Pink, Fire Coral, Butterscotch, Sour Apple, Jalepeno Popper, Kraft en Milk Chocolate inkt op een witte 4 x 4 inch Smooth White vierkant. Corner Chopte de hoeken en plakte het geheel op een Jalepeno Popper vierkant die net iets groter is.
Heat set the sentiment on some Milk Chocolate cardstock and cut them into three different strips. Added them to the base and the card was all done!
Heat emboste de tekst op Milk Chocolate cardstock en stanste er drie gelijke strips van. Plakte ze op de basiskaart en mijn kaart was klaar!